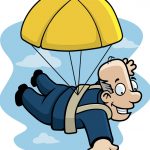 Jeff Immelt is stepping down after 16 years at the helm of GE, and by most measures he was a successful leader. He directed a sweeping transformation of the company, adapted to big changes in technologies and global markets and avoided major scandal. But by one significant measure – the stock price – Mr. Immelt was a failure. GE's shares barely budged while the broader market and several GE peer companies prospered.
So how did he last for 16 years while presiding over an underperforming stock?
One answer is that the GE board was supportive, particularly during the 2008 financial crisis and its aftermath, when it became clear that steady leadership would be needed to transform the company.
After all, the GE Mr. Immelt inherited in 2001 from Jack Welch was mainly a financial services firm. In 2002, the first full year of Immelt's tenure, its finance unit accounted for about half of its earnings. Mr. Immelt shed those businesses – and the regulatory burdens that came with them – after the financial crisis, and focused on the industrial and healthcare segments.
But the other factor that helped Mr. Immelt remain at the helm was great communication. Every pivot in GE's business strategy was accompanied by a thorough communication program. The "ecomagination" campaign highlighted its push into alternative energy and infrastructure, while its recent effort to re-brand itself as a "digital-industrial" company supported a push into technology-enabled systems and products.
And GE didn't hold back. Its communication campaigns were well funded, creatively bold and sustained over many years. Mr. Immelt understood that reshaping the company's identity required a significant investment.
He also embraced communication on a personal level, appearing regularly in the media and in public settings. He developed a speaking style that was candid, easy to understand and self-effacing. He benefited too by appearing more humane than his predecessor, Jack Welch, who had a reputation as a bloodless monarch.
Relentless communication also helped Mr. Immelt to keep a lid on calls for a more radical restructuring of the company. Investors generally frown on conglomerates like GE, which are seen as overly complex, hard to manage and less transparent than more focused enterprises. But GE remained a collection of very diverse businesses under Mr. Immelt, and questions about spinning off or selling more divisions never surfaced.
That could change, however, thanks to the presence of an activist shareholder, Trian Investments. Their purchase of a large stake in GE two years ago brought new pressure on the board and certainly played a role in Mr. Immelt's departure.
It's no secret that CEO successions at GE traditionally have been well choreographed affairs, with a timetable that's known years in advance. This time the change at the top was unexpected. Mr. Immelt will leave in just a few months, and his departure marks the second time in just a few weeks that an industrial stalwart has replaced its CEO. (Ford recently announced the appointment of Jim Hackett to replace Mark Fields.)
GE's new CEO John Flannery now faces impatient shareholders and big challenges in its businesses. We will see if he is as effective as his predecessor in taking risk in communications to support the risk-taking in his business strategy.